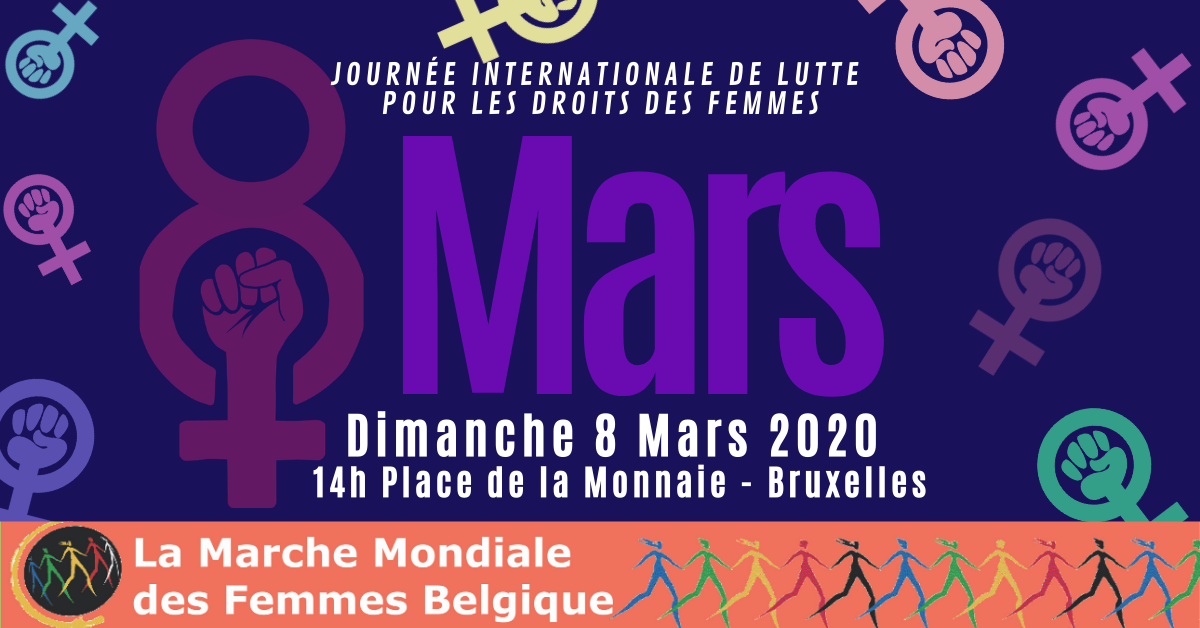 INTERNATIONAL DAY OF STRUGGLE FOR WOMEN'S RIGHTS

NATIONAL CALL TO MARCH in Brussels, Liege, Ghent, Antwerp...
    Gathering at 5pm in Brussels


Departure from the Central Station at 5:30 pm
to the Luxembourg square


 

 

 

 
    The "World March of Women - Belgium"calls for a change of direction on the part of politicians, to be undertaken urgently, in order to avoid social and environmental
     disasters, particularly those affecting women. We advocate a sustainable economy where, everywhere, human life, collective well-being, effective equality of rights
     and respect for the environment take precedence over market mechanisms, productivism and the pursuit of profit for the benefit of a minority.

     We ask the next government to fight against precariousness and pursue a progressive, ecological and feminist socio-economic policy! !
     With this demonstration and walk, we take to the streets to be heard! This is the end of a day of struggle by several women's associations, and the feminist
     strike.!
#NousToutes #Jemarchele8

AGENDA

 

09h-16h : Activities around the "Feminist Strike"                                              This email address is being protected from spambots. You need JavaScript enabled to view it.                                                                                       CENTRAL STATION


 

14h : The World March of Women calls on women to make noise, to show that we have enough of
discriminations and patriarchy: If women stop, the world stops!!                  CENTRAL STATION

 

14h30 - 15h30 : Solidarity action with the struggle of Iranian Women. A Protest Action is organized in front of the Iranian Embassy, with the delegations of the Iranian
Women's March of Hamburg, Amsterdam and Brussels, to celebrate the 40th anniversary of the
uprising of women against state, social and domestic violence against women.                                                  

This email address is being protected from spambots. You need JavaScript enabled to view it.                                                                                       IRAN AMBASSADE in Ixelles


 

16h - 17h : The World March of Women organizes "Les Porteuses de paroles": occupation of public space and awareness-raising on the street, as part of the Feminist Strike.                                                          CENTRAL STATION                                                                                                                         


 

17h - 17h30  : General Gathering - Welcome to the Iraniens women's march,- Animation - Music -
Flash Mob (by a group of Migrant Women).

This email address is being protected from spambots. You need JavaScript enabled to view it.                                                                                                GARE CENTRALE

 

17h30 : Start of the March for Women's Rights. World March of Women.          GARE CENTRALE

 

18h30 :  Arrival at the Luxembourg square- Symbolic action of protest against austerity measures. Concert of feminist groups.

Contact marche mondiale des femmes:


This email address is being protected from spambots. You need JavaScript enabled to view it. / This email address is being protected from spambots. You need JavaScript enabled to view it.                               LUXEMBOURG SQUARE


 

20h : Meeting with Iranian women's delegations.

This email address is being protected from spambots. You need JavaScript enabled to view it.-kla">This email address is being protected from spambots. You need JavaScript enabled to view it.                                                PIANOFABRIEK à Saint-Gilles
My body, my choice, not the state, not religion, not anyone else!
Si les femmes s'arrêtent, le monde s'arrête !
So so so solidariteit met alle vrouwen wereldwijd !
So so so solidarité avec les femmes du monde entier !
On ne peut plus dire qu'on ne savait pas ! On ne peut plus laisser faire !
We kunnen het niet langer ontkennen! We kunnen dit niet langer laten gebeuren!
In België......traduire anglais
De regering telt 5 vrouwen op 15 ministers, en geen enkele vrouw bij de staatssecretarissen. Slechts een kwart van de vrouwen met een nationaliteit van buiten de EU heeft werk, tegenover de helft van de mannen. Bij de vredegerechten en de politierechtbanken zijn drie kwart van de rechters mannen.
(Kijk naar ons brochure van 2010 (faire lien))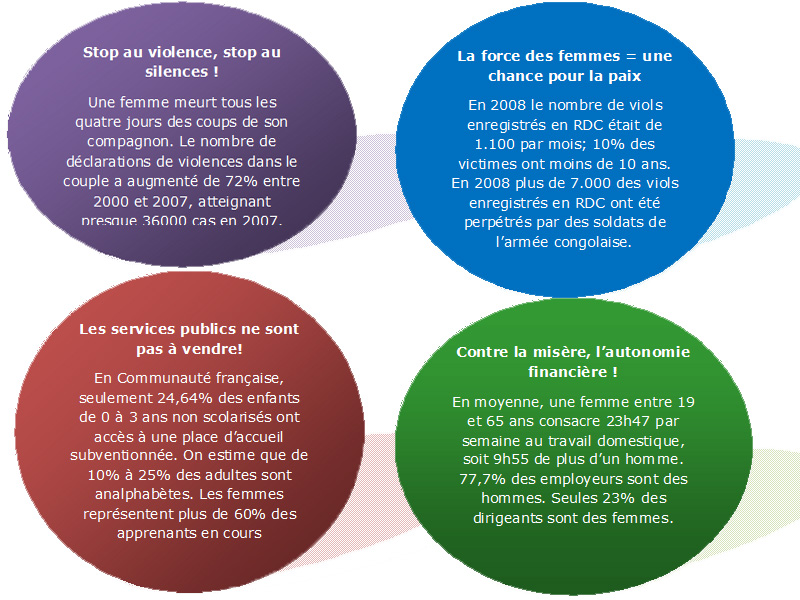 Wij zien vier actieterreinen, vier domeinen die cruciaal zijn om de vrouwen van de hele wereld te bevrijden. De eisen uit deze bundel zijn opgesteld door vier werkgroepen in de WVM. Wij zijn ons er evenwel van bewust dat deze actieterreinen onderling samenhangen en deel uitmaken van een globale visie op een nieuwe wereld van gelijkheid en solidariteit. Wij hebben ook gestreefd naar een zo groot mogelijke weerspiegeling van de diversiteit van vrouwen (migrantenvrouwen, oudere vrouwen, lesbiennes, vrouwen zonder papieren, gehandicapten, enz.) in onze eisen. Dit was mogelijk omdat onze leden ook zeer divers zijn. Het geheel van onze eisen vormt de basis voor een werk van pleitbezorging en politieke controle in eigen land. We willen deze eisenbundel zoveel mogelijk gebruiken om rekenschap te vragen aan onze politieke vertegenwoordigers over hun engagementen en hun verwezenlijkingen.